A warm welcome to St. Martin Catholic School!
More than 400 excited West Lincoln children returned from their summer vacation to be welcomed to a new school last Tuesday.
The Niagara Catholic District School Board opened the doors of a new St. Martin Catholic School after 21 months of construction at a cost of about $10 million.
The school, which just marked its 50th anniversary last year, needed a bigger school to accommodate the growing number of students and we are so glad they chose our neighbourhood!
Construction started in December 2015 and now the school can accommodate more students, up to 465 "with nearly 20 classrooms, a child care centre, a new gymnasium with a stage, a library/resource room, a chapel and about 41,000 sq. ft in additional space compared to the Margaret Street site."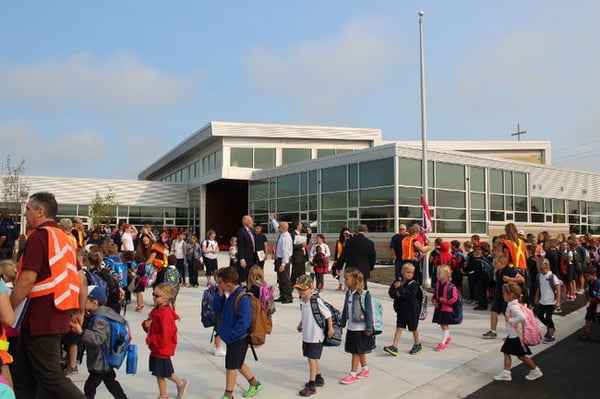 More:
https://www.niagarathisweek.com/news-story/7533135-back-to-school-in-a-brand-new-home/
http://www.stcatharinesstandard.ca/2017/09/05/new-school-welcomes-students
Photo Credit: Allan Benner – St. Catharines Standard
More Great news as Smithville breaks ground on a new Multi-Use Recreational Site (MURS)
Ground was broken on September 6th for the new $23.6-million multi-use recreation site, which will "replace the aging Smithville Arena and combine a new library branch, walking tracks, skate park and splash pad into a new recreation facility proponents say will provide something for everyone."
The current timeline will see the library and outdoor features completed for summer 2018 and the arena opening in January 2019.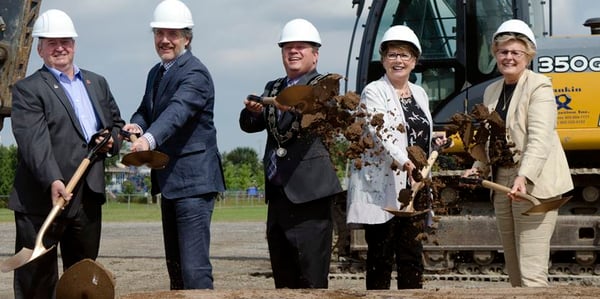 More: https://www.niagarathisweek.com/news-story/7540441-ground-broken-on-murs-project/
Photo Credit: Luke Edwards /Metroland