We're been scouring the web to see what the experts are saying about the 2018 design trends and good news, we are certainly excited!
At Phelps Homes we love to incorporate timeless and organic design elements with contemporary accents in order to create a house that really is a home.
Here is a roundup of the 2018 design and decor trends we are most excited about featuring some photos from past Phelps homes:
Open Plan Dining: Designer Cynthia Spence for HGTV notes that the shift to more open concept dining rooms "creates a sense of flow throughout the space, and brings socializing back to the dinner table"
Check out her website for some amazing inspiration
Darker and Mixed Finishes: It seems that brass is making a comeback in all areas, be it furniture, fixtures, cabinet hardware, and accessories. These alternative finishes work well together and can be interchangeable notes Juliet Gold from Juliet Gold Design for freshome.com
Tip: remember to pick one dominant metal to use throughout the space and use any others as accents as well as matching finishes on each type of metal.
Check out Juliet Gold Design for modern and contemporary designs you'll covet.
Wide-Plank Woods: Wider planks are perfect for creating a more rustic feel throughout your home also adding an element of visual interest. Sara Babinski of Armstrong Flooring explains that "5-inch wide planks have become the new classic".
You can opt for wide plank flooring in our design centres
Two Toned Kitchen Cabinets: We love this trend and really enjoy seeing it in our homes. Having two tones in your kitchen creates a sense of warmth and also brings in that contemporary element.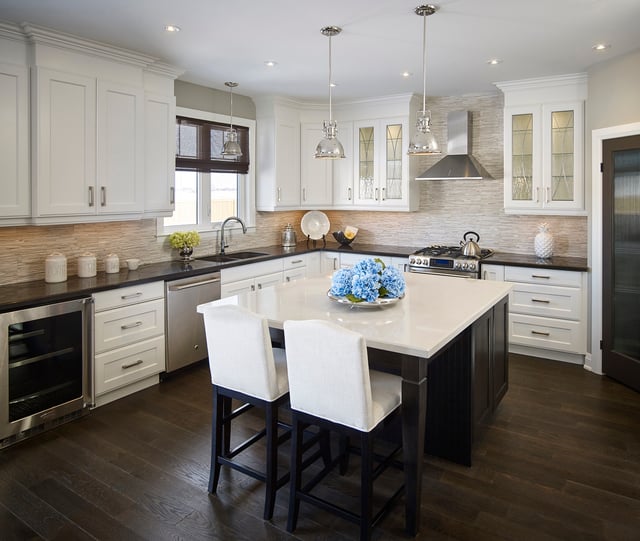 Check out any of these articles for more great trends