Whether you`re a fan of the cooler weather or not, Autumn is upon us. It will soon officially be the season of pumpkins, rich colours, and cozy sweaters. Why not embrace it and bring those elements to life on your front porch? (The cozy sweaters are for you, of course.)
Here are eight ways to spruce up your porch just in time for Fall!
1. Make a cozy corner
There's not much better than enjoying a nice cup of coffee surrounded by comfy pillows. Sometimes overlooked, this is the perfect opportunity to dive into the season. Switching pillows each season and adding a throw blanket for the chillier months allows you to enjoy your front porch for the majority of the year.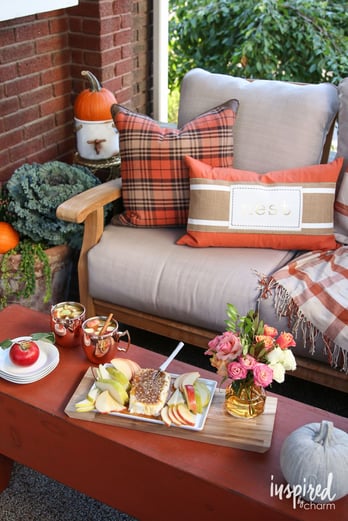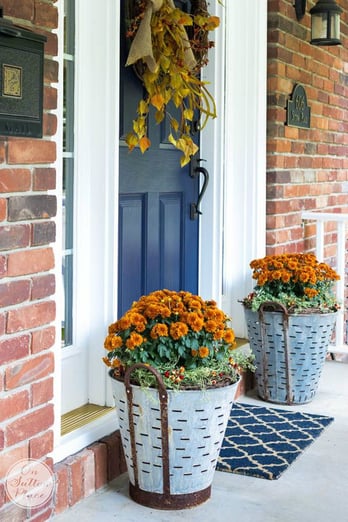 Photo courtesy of Inspired by Charm Photo courtesy of On Sutton Place
2. Frame your door
You can't go wrong with a more simple decor option. Framing your door with rich fall colours has a subtle but perfectly on-theme impact. Cole's Florist & garden Centre offers a wide variety of plant and flower options, as well as a Four Seasons Planter Program- sign up and pick the seasons you would like to have beautiful planters on your porch and they will take care of the rest!
3. Bring the inside out
Consider bringing indoor elements outside to enhance your theme. For a more rustic feel, feature items like stools, lanterns, natural wood pieces, frames, etc. These items add a level of coziness to your porch without taking up too much space. Look for an antique piece at FOUND Interior Home Consignment in Grimsby to make your porch set up stand out!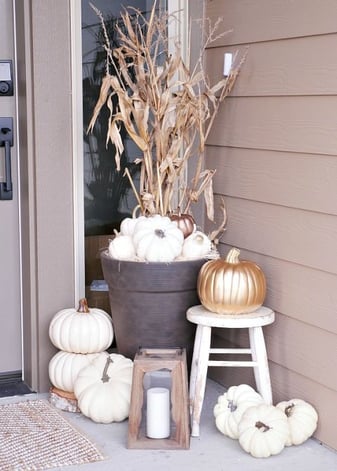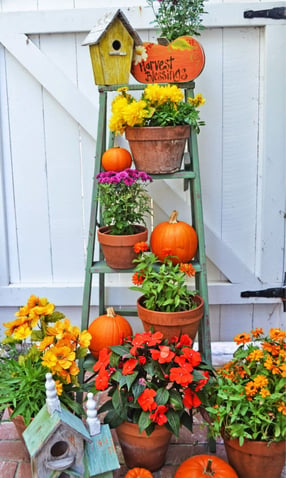 Photo courtesy of Taryn Whiteaker Photo courtesy of My Painted Garden
4. Step it up
Re-purposing an old ladder or shelf is the best way to make the most of your porch space. Artfully stack pumpkins, gourds, plants, Fall-inspired decor, etc!
5. Accented signs
Welcome people to your home with the help of a seasonal sign! Or, if you have a sign you love using year-round, accent it with the perfect Fall decor- pumpkins and corn stalks from Warner Ranch and Pumpkin Farm in Welland!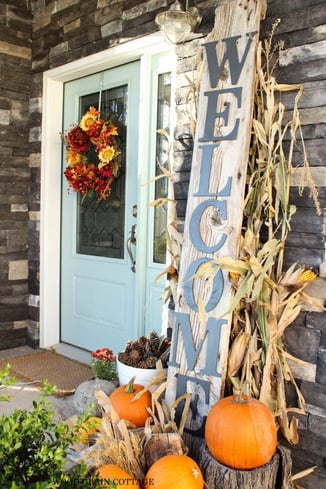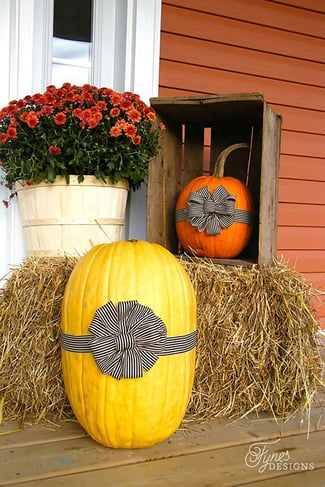 Photo courtesy of The Wood Grain Cottage Photo courtesy of Fynes Designs
6. No-carve pumpkins
Love the season but have a certain vision that doesn't include carved pumpkins? Or just don't feel like cleaning up the mess? No-carve pumpkin decor is the perfect solution! Add a simple bow or ribbon to bring your vision to life with pumpkins from Howell's Family Pumpkin Patch in Fonthill.
7. All of the pumpkins
You can't go wrong with a beautiful collection of pumpkins and gourds of all shapes and sizes leading up to your front door!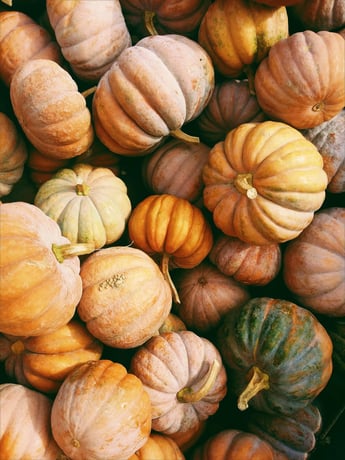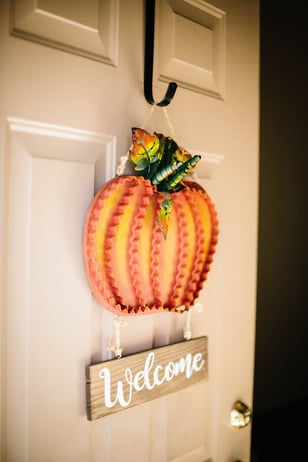 8. The classic
A door wreath or simple, seasonal door decor will forever be an easy and effective way to embrace the season. Bella & Coop Home Decor can take of your Fall decor final touches.