On December 3rd, 2019, the Niagara Home Builders Association hosted their annual Country Christmas Celebration and not only was our Phelps Homes team in attendance, but our very own President - David Samis - received the prestigious Niagara Home Builders Association's 2019 Member of the Year Award!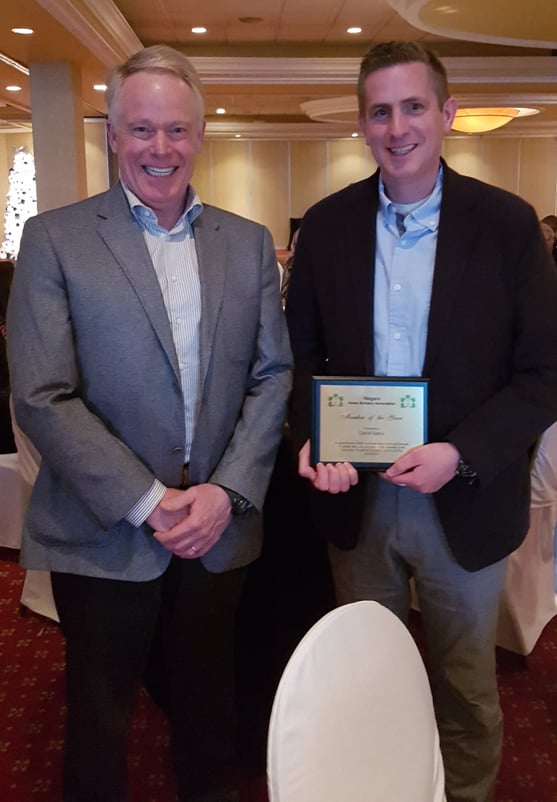 Left: Paul Phelps - CEO & Owner, Phelps Homes Right: David Samis - President, Phelps Homes
"I'm very pleased and proud to announce that our President, David Samis, tonight received the Niagara Home Builders' Association (NHBA) 2019 Member of the Year Award. The Member of the Year Award is voted on by the NHBA membership, and is presented annually to an NHBA member who exemplifies dedication to NHBA and our home building industry." - Paul Phelps
David has sat on the NHBA Board of Directors for several years and, during this time, has represented NHBA on many industry issues at the Municipal, Regional, and Provincial level.
The Niagara Home Builders' Association is a network of professionals who work together to serve and promote the residential building industry. Organized in 1955, members include new home builders, developers, renovators, suppliers, supplier/trade contractors, manufacturers, and allied professionals.
It is a volunteer association actively involved in all facets of the new home construction and residential renovation industry. Committees are organized to represent the interests of the association related to building and development issues, and members are also members of the Canadian Home Builders' Association and the Ontario Home Builders' Association; they consult with governments at all levels on policies, programs, and legislation that affect the industry and consumers.
Congratulations, David!